Luxury Transport Services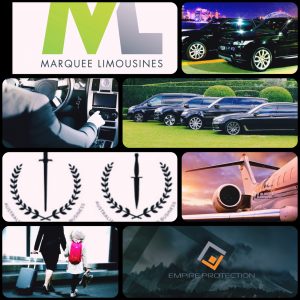 Empire Protection is proud to partner with Marquee Limousines to continue to provide exceptional levels of extended travel services.
Marquee Limousines has a proud history and a continuing commitment to providing safe and luxurious transport across Australia and New Zealand. With a large fleet of immaculate European vehicles, your transport needs are met from single airport transfers to large events, Executive and Celebrity movements or simply those who want to skip the taxi line.
Joining the services of Marquee Limousines and Empire Protection allows our clients an holistic service for Transport Logistics and Security / Personal Protection and Travel Security in general. Additional Security Drivers, Personal Protection Operatives, Residential and Hotel Security Team, Event Security Teams and Security Planning Agents are all available to support our clients. Marquee and Empire have worked together on a number of large scale events and intimate high-profile movements with great success, saving our clients time and money and protecting their people and reputation.
You can book our joint services seamlessly by contacting [email protected] or calling 1800 008 004 (Toll Free Australia) or +61 400 444 715